Notice of Establishment of Purpose, Principles, Vision 2030, and Management Policies (2021-2023)
May 7, 2021
Nihon Unisys, Ltd. (head office location: Koto-Ku, Tokyo; President & CEO: Akiyoshi Hiraoka) announced today that it has established its new Purpose, Principles, Vision 2030, and Management Policies (2021-2023).

Building on its efforts to date to create new value for society, the Nihon Unisys Group (the Group) has renewed its commitment, as a member of society, to further contribute to society. The Group aims to achieve sustainable growth with all officers and employees working toward common goals. Namely, the newly launched Purpose—that articulates the Group's long-term role and contribution to society—Principles, Vision 2030, and Management Policies.

The new Management Policies (2021-2023) defines its basic policies as "For Customers," where the Group promotes customer digital transformation (DX) which contributes to the customer's sustainable growth, and as "For Society," where the Group promotes the digital transformation of society which solves social issues together with customers and partners in various industries. The Group will accumulate the best practices of customers who implement digital transformation, promote digital transformation for society, and expand business ecosystems with customers and partners to cover society in its entirety.
- End of Document -
Purpose, Principles, Vision 2030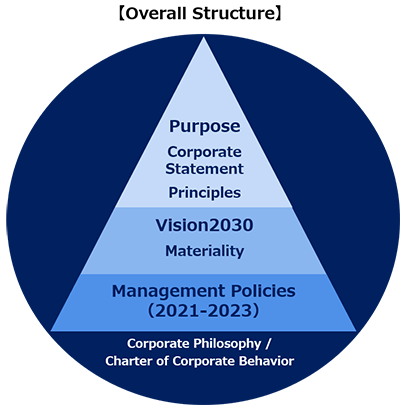 Corporate Philosophy / Charter of Corporate Behavior
Basis of all activities and define unchanging values and objectives for the company to exist in society and to create and provide value regardless of changing times and environment
Purpose / Corporate Statement / Principles
Prescribe the Group's long-term roles in society and the fundamental principles and creeds for realizing such roles
Purpose

To describe the company's raison d'etre and roles in society, which includes unique characteristics of the Group and management's determination to gain empathy from, and involve, various stakeholders
Corporate Statement

To state a simple slogan to spread the company's ideals and goals in a consistent manner both inside and outside the company
Principles

To define the principles and creeds for the Corporate Philosophy and Charter of Corporate Behavior as well as for realizing the Purpose and Vision
Vision 2030 / Materiality
Vision 2030

To describe of the Group's roles and raison d'etre, our ideals and commitment to undertake long-term activities to prepare for the year 2030
Materiality

To describe material issues to be undertaken by the Group and performance indicators (to be set within FY2021 under Vision 2030)
Management Policies (2021–2023)
To describe the targets to be achieved in the next three years and the main strategies, organization etc. of the Group to achieve the goals of Vision 2030
Purpose
Create a sustainable society using foresight and insight to unlock the full potential of technology.

Foresight and Insight x Technology x Business Ecosystem = Create Social Value
Principles
Principles:
Social Inclusion and Respect for Human Rights

Respect vulnerable people such as children, the elderly, and those with disabilities with the aim of achieving respect for human rights and gender equality.

Acceptance and Acquisition of Diversity

Accept and respect diversity and strive to create value by improving one's own inner diversity.

Self-improvement and Greater Discretion

Be sensitive to the expectations and requests of society and actively create a better society.

Transparent Corporate Activities and Healthy Corporate Culture

The company should engage in corporate activities that are transparent to society and strive to maintain and improve a healthy corporate culture.

Sincere Performance

Listen sincerely to the voice of stakeholders, follow socially accepted good concepts and conscience, and follow the Principles and Creeds.
Creeds:
Sincere and Passionate Actions as a Good Member of Society

Act sincerely and passionately for co-existence and co-prosperity with society and the environment and achieve the management philosophy as a good member of society.

Efforts to Hand Down Well-being to the Next Generation

Work actively to build a sustainable society to hand down our blessings from nature and a happy life to the next generation.

Create Value by Forming Business Ecosystems

Study society carefully, consider the relationships in solving multiple social issues, and gather stakeholders, knowledge, and resources and work to create value.

Pursue High Quality, High Technology and High-level Skills

Pursue high-level skills for providing high quality and high technology services.

Create Social Value and Achieve Sustained Growth

Achieve sustainable growth of the Group by pursuing the creation of social value by making decisions according to changes in society and following through on the decisions.
Vision 2030
"We will develop the Digital Commons which is a platform that helps create a society where everyone can live happily."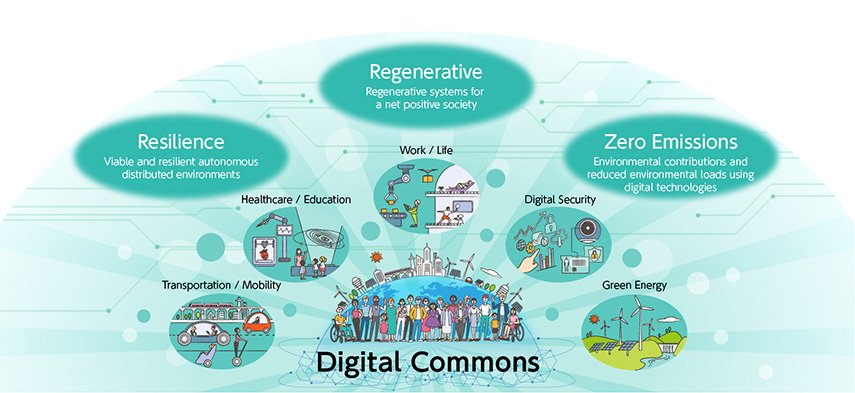 How to contact Nihon Unisys
Required Adobe® Reader® to read PDF files.
Please click here別ウィンドウで開く to get Adobe Reader.
Required Adobe® Reader® to read PDF files.
Please click here別ウィンドウで開く to get Adobe Reader.