We aim to transform into a company that creates social value by building a corporate brand that is unique in the world and by working to solve social problems with borderless ideas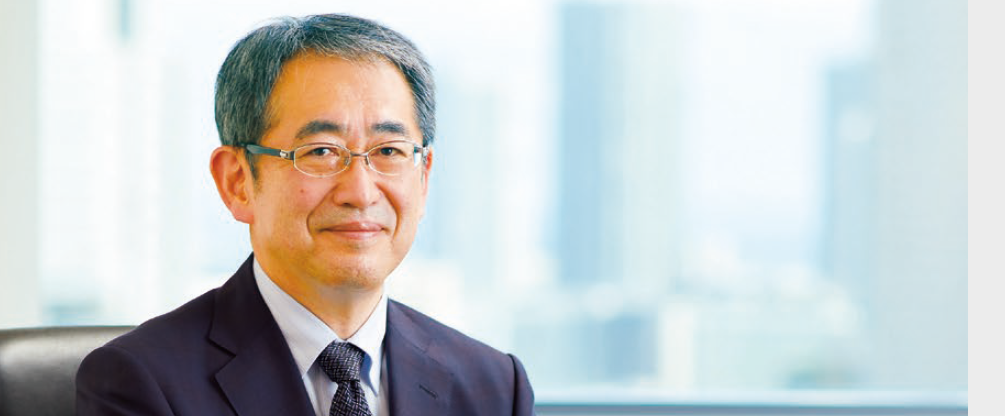 Akiyoshi Hiraoka
Representative Director, President & CEO, CHO
Resolve and determination behind our new corporate brand
We have changed our corporate name to BIPROGY Inc. on April 1, 2022. Firstly, I would like to thank our shareholders for approving this change and our investors and customers for their many words of encouragement. I've been asked, "Why change the name Nihon Unisys, which has a long history and brand image?" The greatest reason is our desire to have a brand that is completely unique in the world.
We have always felt frustrated at the limitations on the global use of the Unisys brand name. When we celebrated our 60th anniversary in 2018, we redefined the Company's raison d'etre as being "a corporate group that solves social issues." It was while working to solve various social issues over the following three years of our previous mid-term management plan, however, that I was regularly hit by the realization that borderless ideas are vital for creating great solutions.
Whether we like it or not, the corporate name Nihon Unisys identifies us as an IT company, and gives the impression we are restricting ourselves to Japan. We will need to embrace ways of thinking that strive for the best results in a comprehensive manner—overall optimization—from a range of narrow perspectives—partial optimization—such as social engineering and technologies besides IT. We also need to start thinking from a behavioral science perspective—looking into why humans behave in ways that create social issues.
At this juncture, as a Group, we have set forth in our new Purpose (the company raison d'etre) to transform into a company that creates social value that helps to achieve a sustainable society by reimagining the social role we should play and the value we should provide going forward. We believe this junction is the perfect timing for showing our determination to make a new start in building a unique brand from a borderless perspective. To this end, we decided to change our corporate name.
Regardless of our change of corporate name, our business alliance with Unisys Corporation will remain unchanged and we will continue to sell Unisys Corporation products in Japan.
Reflecting on our previous mid-term management plan
Fiscal 2020 was the final year of our mid-term management plan, "Foresight in sight 2020." Reflecting on our business performance, net sales were below our target of ¥320 billion at ¥309.7 billion as a result of a decline in sales of system services, partly due to the impact of the COVID-19 pandemic. Profits grew, however, as a result of an increase in highly profitable digital transformation (DX) projects in priority areas and significant growth in outsourcing services. This saw the operating margin, our most important indicator, reach 8.6%—exceeding its target of 8%.
Under the previous mid-term management plan, we had separate categories of priority areas and core ICT areas. We believe the steady growth of digital transformation (DX) business in our priority area has laid the foundations—and has given us significant confidence—for executing our new management policy. Additionally, these priority areas have seen the launch of several services able to create social value, such as energy management services. This means we have created the very markets that are creating social value. Moreover, we have laid the foundations to grow these priority areas even further by using the assets we have developed to collaborate with various companies in our business ecosystems. This progress gives a general summary of the three years of the previous mid-term management plan.
Vision 2030: Our path to 2030
Creating digital commons through three social impacts
The Group has set Vision 2030—under our Purpose—as our direction toward 2030. Our aim is to achieve a sustainable society—equipped with social systems to enable everyone to live happily—by creating digital commons (shared assets of society) through the promotion of our business with three social impacts as our guide:
Resilience: Viable and resilient autonomous distributed environments,

Regenerative: Regenerative systems for a net positive society

Zero emissions: Environmental contributions and reduced environmental loads using digital technologies.
Building resilient social infrastructure through visualization
Resilience is the capacity to recover quickly from sudden crisis and environmental changes such as disasters and infectious disease epidemics. In recent years, Japan has also been affected by climate change, and it is now not uncommon for major disasters to occur each year that were once said to occur once every 50 or 100 years. Under these conditions, it is necessary to visualize the disaster prediction data and take countermeasures. We are participating in projects such as the Cabinet Office's Cross-ministerial Strategic Innovation Promotion Program (SIP), Phase 2: Enhancement of Societal Resiliency against Natural Disasters, II. Development of Systems for Analyzing and Sharing Disaster Information. We are working to enhance responses to natural disasters (evacuation and emergency measures) by rapidly extracting information that gives situational awareness of the disaster—utilizing data collected and observed such as from satellite imagery—and by grasping and monitoring possible future situations. If disaster algorithms can be analyzed by visualizing various changes in the natural environment before, during, and after a disaster using sensors and radar, it will be possible to make predictions and take rapid emergency response measures.
In addition, infrastructure such as roads, bridges, and tunnels are aging all over Japan and require maintenance and inspection. However, many of the bridges are under the control of local governments. Therefore, for various reasons, it is difficult to regularly inspect and repair all of them. Resilient societal infrastructure can be developed and decisions on repair prioritization can be made, however, using digital technologies in conjunction with self-flying drones and analysis of captured images using AI. Repair work can also be prioritized in locations of heavy traffic volumes by digitally visualizing the traffic volumes of bridges. In such cases, we will collaborate with external companies and organizations beyond our industry bounds while making the most of their respective technologies and strengths.
Regenerating old mechanisms with the power of digital technology
The next word, regenerative is not so familiar to us, however, it's derived from regenerate, meaning to bring new and more vigorous life to something. Organizations and systems in Japan are often unable to cope in the world today, or their latent problems are often highlighted because of some event or circumstance. The reality is that it is quite difficult to go back to a blank slate and start again from scratch. Adding digital power to what has been accumulated from the past, however, creates the possibility of regeneration.
As an example, in Japan, even during the COVID-19 pandemic, supermarket distribution networks were not disrupted and there was no sense of any shortage of goods. This is solely due to the efforts of essential workers who work in not only supermarkets but also in manufacturers, wholesalers and logistics. On the other hand, there are still issues that need to be solved such as excess inventory and food losses and waste. Currently, systems are being developed that do not result in lost opportunities for sales and that do not result in excess inventory. This ongoing process is seeing supermarket orders being switched to AI orders due to labor shortages, and AI analyzing weather information and local event information, and making purchases based on predictions of how much of a particular product will sell— particularly for fresh produce and products with short expiration dates such as milk that are delivered daily to retail stores.
By sharing such mechanisms not only within supermarkets but also with manufacturers and wholesalers, it may be possible to further reduce excess inventory. By connecting with producers and consumers—who are now highly aware of issues such as SDGs—there is a possibility that daily deliveries can be switched to pre-order sales and food losses and waste can be eliminated. In addition, optimization of delivery can be expected to reduce greenhouse gas emissions. In this way, regenerating the existing system into a new system that enables further problem solving with the power of digital technologies is what we call regenerative.
By zero emissions we mean societal systems such as a resource-recycling social system that does not produce any waste. To create systems that positively contribute to the environment and reduce the environmental impact using digital technologies, regenerative systems are also necessary, and to ensure the continuity of companies and to maintain the lives of ordinary citizens no matter what kind of crisis occurs requires resiliency.
Vision 2030 thus expresses our stance of contributing to the three interrelated social impacts from the perspectives of various industries and markets together with our business ecosystem partners. The Group is a member of the United Nations Global Compact and has been promoting efforts to achieve its Ten Principles and the SDGs. Going forward we will make even greater contributions to achieving the SDGs through our efforts toward Vision 2030.
Two perspectives represented in Management Policies (2021-2023)
The basic policy for achieving Vision 2030 is Management Policies (2021-2023), and this policy is defined from two perspectives. One is For Customers (promotion of DX for customers), to contribute to the social value that customers aim for, and the other is For Society (promotion of DX for society) to create a market for social value creation together with customers and partners and turn it into the digital commons for the promotion of solutions to social issues.
An example of an initiative we have already implemented is the campaign called "BE + CAUS" (because). Through collaboration with a donations platform—provided by Smart Campaign and STYZ Co., Ltd.—this initiative allows ordinary citizens to participate in social contribution activities. For example, when a customer who is a member of a supermarket buys a specific product of a participating manufacturer, the manufacturer makes a donation to an NPO that cleans marine debris. This, in essence, is a business ecosystem value chain. The circulation of this kind of value chain will create a system of supporting various people working to solve various social issues—that is, the digital commons with added economic value. Since it is a campaign for a specific product, it is initially For Customers, but by using this mechanism, it can also be a promotion For Society.
It was some of our female employees who came up with this idea. Continuing from the period of the previous midterm management plan, we have a rule that engineers need to set aside three consecutive hours a week for work other than their assigned duties. This idea is a direct result of employees making the most of such an environment—conceiving and actioning a marketing method of involving manufacturers and retailers by matching up consumers wanting to contribute to society with organizations wanting to raise funds. Another group of employees are trialing another idea to help solve marine debris issues. They are using satellite and drone imagery to analyze the flow and amount of ocean currents and drifting debris to help collect and dispose of debris and have set up IoT imagery devices on the coast in collaboration with local governments to enable volunteer coastal clean ups. The collected waste is either used as fuel or recycled into other products—an ecosystem that links to non-IT initiatives. I believe an interesting market can be created through the further expansion of this circular ecosystem with digital technologies.
We want to expand our business ecosystems in collaboration with our customers and partners to achieve a better society by accumulating DX for Customers and promoting DX for Society.
New initiatives associated with materiality review
The Group—under its aim of becoming a sustainable company and from the two aspects of achieving a sustainable society and establishing sustainable growth cycles—has identified, set, and promoted issues that should be prioritized as material issues. In the process of establishing Vision 2030, we reviewed our material issues with achieving this vision in mind. We also revised our director remuneration system and decided to introduce new restricted stock remuneration linked to medium- to long-term performance that includes our level of achievement of these material issues. This revision clarifies the responsibility of directors for short-term performance in times of significant change, improves corporate value over the medium to long term, and enhances the link between remuneration and medium- to long-term performance. The aim is to share our interests and objectives with our shareholders and employees. It also shows our stance toward solving social issues to various stakeholders.
Currently, most of the businesses the Group engages in are created by our business ecosystems and are linked to the digital commons, which then links to social value. The capacity to judge and appraise not only technology but services—and social value brought about by services—and business models is vital for solving social issues and creating social value. To promote innovation, it is also vital we collaborate with companies that have technologies that we do not possess. We will expand our business ecosystems and keep building the digital commons by enhancing our capacity for judging and appraising and enhancing our agility to respond to changes in the times armed with our capacity to implement our accumulated Group technology in society.
Desired profile of personnel
The reason we changed from a management plan to a management policy when formulating our current Management Policies (2021-2023), is because we want each employee to act and interact autonomously and independently—with our Purpose as a guide—to respond flexibly to changes. Moreover, no matter how much we explain our Purpose from a top-down manner, we will not get widespread understanding and uptake of our Purpose in the Group. I believe we can achieve this—effective dissemination of our Purpose— through the accumulation of successful actions and interactions, which will lead to our own independent sustainability. The assets we achieve through this may be small. However, by combining all these small assets will see the creation of new markets. Even small stories can be woven together to realize lofty ambitions—what we call giant technological leaps or moonshots.
Regarding the profile of personnel the Group seeks to nurture, we have not increased our total number of employees by much over the long term, which I think is unusual for an IT company. Conventional business thinking says that the greater the number of personnel, the greater the revenue. However, I have continued to endeavor to create value by pursuing other avenues than a "man-month" business mindset. I believe we must think more dynamically about human resources such as utilizing our entire business ecosystems.
Meanwhile, of our core personnel, I want to place the most importance on and appreciation for those who share the same aspirations and get actively involved in our Purpose and Vision 2030. If you define your required skill set in detail, you will lose diversity. Currently, we are actively calling on our employees to become personnel who take on multiple roles—under our ROLES HR policy. While it is said that it is important to have diversity for innovation, if you do not have diversity within yourself, you cannot easily respect the diversity of others. Diversity within oneself is also called intrapersonal diversity. By first creating diversity in ourselves, we can respect a diverse range of people with diverse attributes while also seeking greater diversity for ourselves. I want our Company to be made up of such employees.
Strategic investment
We have accumulated profits so far and have sufficient investment capacity, so going forward we plan to make further investments to contribute and give back to society with our profits. When it comes to investing, we need the capacity for judging and appraising we mentioned earlier because we are constantly exploring what kind of technologies and business models are the best match for each other. We have begun investing through corporate venture capital (CVC) to ensure this search is efficient. We plan to further strengthen our CVC investments with a focus on finding new technologies and want to enhance our capacity for judging and appraising. We have also established an investment company—Emellience Partners, tasked with finding potential business partners—to form business alliances and partnerships, and have already invested directly from BIPROGY rather than through CVC. Meanwhile, we are also planning to undertake investments to secure intellectual property that we do not have within the Group. We provide funding when a party—wishing to create a business ecosystem; but not in the traditional relationship of contractee and contractor—has the technology but lacks the financial resources or a suitable place to verify the feasibility of the technology. We also are looking to make investments with parties wanting to try out their technology in an existing business ecosystem.
What kind of future do we want to create?
Our Group corporate statement is "Foresight in sight." I translate this "foresight" as "daydream." The campaign I mentioned earlier was born out of employee daydreams, and I've always told our employees, "You can spend your time daydreaming." This is also a daydream, but toward our future in 2050, I have already published, in-house, a roadmap of the dream future I want to create. I started by imagining the future in 2050. Backcasting from there, I then imagined what a world in 2030 would look like where the concept of the digital commons had become normal and where social issues no longer arose.
The digital commons needs the trust and appreciation of many people to be viable. The depletion of resources due to the selfish use of shared resources is called the "tragedy of the commons." To prevent this tragedy of the commons from occurring, the current capitalist economy on its own is insufficient. We also need mechanisms that guarantee the reliability of information. While currently such mechanisms are yet to be established, I believe—in the future, in 2030, in 2050—these problems will be solved and the reliability of information (digital trust) will be enhanced, such as with AI that is even able to detect fakes.
This can enable us to pinpoint societal and systemic bottlenecks. I envision us all together being able to create a better society, if we can implement behavioral science in society through the power of digital at times when we need to transform peoples' behaviors through social engineering for the design of overall optimization. An original concept of behavioral science is that if peoples' motivation is kept high, they can maintain high productivity regardless of their surrounding environment.
In the future, we may be able to achieve a good balance between social engineering and behavioral science by realizing our desires of contributing to society and creating a society that is sustainable and comfortable. To realize this, a "miracle of the commons," we aim to transform into a company that creates social value under our new corporate brand by bringing together the intellectual property, experiences, and assets of our various stakeholders and people.