Purpose
Create a sustainable society using foresight and insight to unlock the full potential of technology.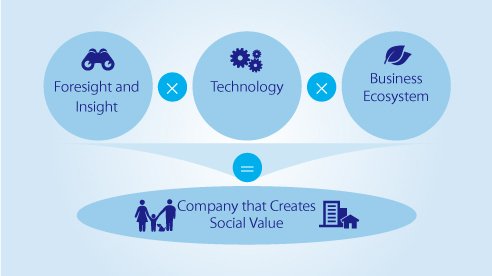 Principles
Principles:

Social Inclusion and Respect for Human Rights

Respect vulnerable people such as children, the elderly, and those with disabilities with the aim of achieving respect for human rights and gender equality.
Acceptance and Acquisition of Diversity

Accept and respect diversity and strive to create value by improving one's own inner diversity.
Self-improvement and Greater Discretion

Be sensitive to the expectations and requests of society and actively create a better society.
Transparent Corporate Activities and Healthy Corporate Culture

The company should engage in corporate activities that are transparent to society and strive to maintain and improve a healthy corporate culture.
Sincere Performance

Listen sincerely to the voice of stakeholders, follow socially accepted good concepts and conscience, and follow the Principles and Creeds.
Creeds:
Sincere and Passionate Actions as a Good Member of Society

Act sincerely and passionately for co-existence and co-prosperity with society and the environment and achieve the management philosophy as a good member of society.
Efforts to Hand Down Well-being to the Next Generation

Work actively to build a sustainable society to hand down our blessings from nature and a happy life to the next generation.
Create Value by Forming Business Ecosystems

Study society carefully, consider the relationships in solving multiple social issues, and gather stakeholders, knowledge, and resources and work to create value.
Pursue High Quality, High Technology and High-level Skills

Pursue high-level skills for providing high quality and high technology services.
Create Social Value and Achieve Sustained Growth

Achieve sustainable growth of the Group by pursuing the creation of social value by making decisions according to changes in society and following through on the decisions.