J's Marketplace DX Solution for Japanese Sake Export
J's Marketplace to accelerate expansion of Japan's Sake export with Digital Transformation.

"J's Marketplace" is a platform for both Breweries in Japan who are looking to expand overseas export, and Importers who are looking for exceptional Sake products in Japan yet to be known overseas.

J's Marketplace will ensure consistent and gratifying user experiences, through smooth process provided in the process related to Transactions, Transportation Arrangements and Export/Import Custom Procedures, with the built-in multi-lingual support that will remove language barriers.
Overseas Markets for Japanese Sake Products
As of 2022, the market for Sake in Japan has declined significantly from its peak, and the number of breweries has decreased as well.

On the other hand, the total amount of Japanese Sake products exported in the fiscal year of 2021 (January to December) was approximately JPY40.2 billion, 166.4% compared to the previous year.
The amount has increased for 12 consecutive years since 2010, and further growth is expected.

There's a complicated business model with many parties involved in the trading process, and it takes significant amounts of time and costs for the Japanese Sake products to reach consumers abroad. Although Japan has many world-class Sake brands, only a limited number of them are distributed abroad.
J's Marketplace is designed to popularize Japanese sake more in the world
We aim to be a platform to promote the expansion of overseas demand and exports of Sake.
J's Marketplaces's goal is to expand Sake exports through the use of IT in order to make Sake loved globally, and to contribute to the promotion of Japanese food culture and the revitalization of regional economies.
 
The current main subject for our Demonstration Experiment is Japanese Sake, we are also developing a plan to handle other alcoholic beverages (shochu, wine, whiskey, etc.), Japanese food, and agricultural products.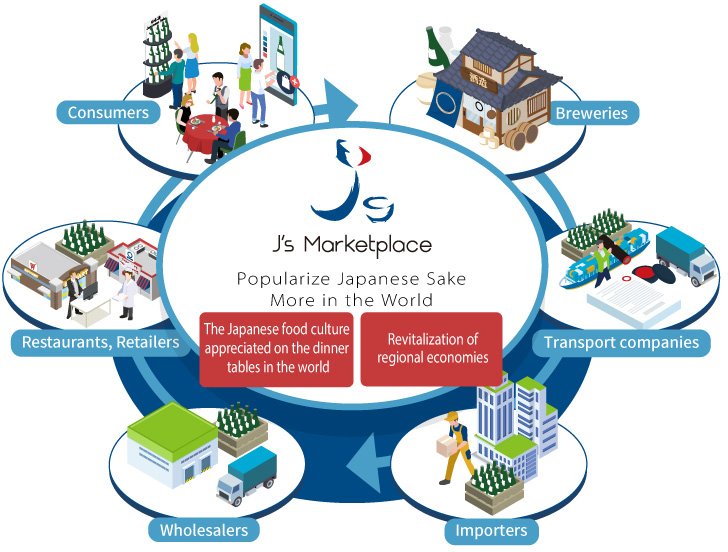 J's Marketplace Services Summary (of the Demonstration Experiment Phase)

Enables direct deals between Breweries and Importers
J's Marketplace users can benefit from communication and import/export operation support between Breweries and Importers with built-in translation services.
Through J's Marketplace, Breweries and Importers can make direct digital transactions and process import/export customs-related operations.
J's Marketplace will ensure revenue growth of the Breweries and satisfy Importers with new opportunities and drastically reduced lead time, as a result of small-scale orders/transportation.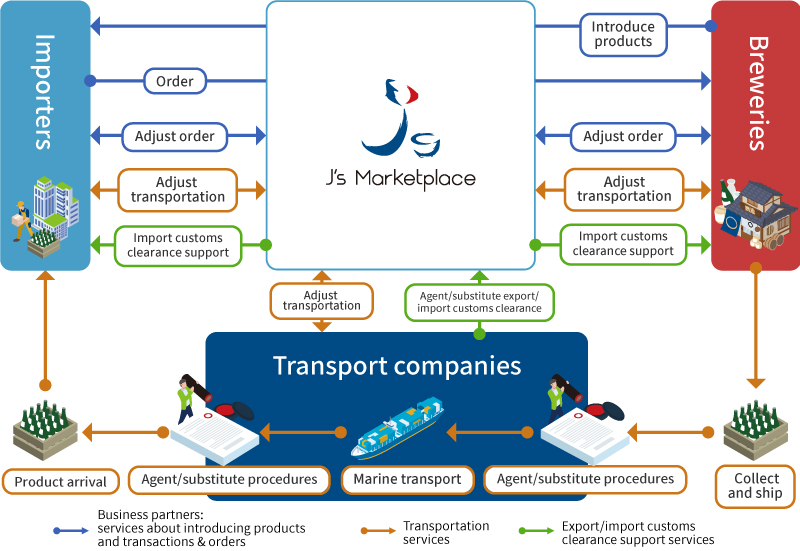 Strong Points of J's Marketplace
Breweries

Breweries can:
- make deals with Importers overseas in Japanese;
- list shops on the e-marketplace through simple procedure;
- export Japanese Sake products with low cost and simple operations;
- easily prepare complicated export-related documents;
- explore new opportunities with new partners globally;
- enable new deals with Importers of trust and credibility;
- enable transactions without relying on export trading companies.
Importers

Importers can:
- reduce communication errors through multi-lingual translation;
- establish direct transactions freely and flexibly with numerous Breweries;
- reduce time from order to product arrival through export/import procedure support;
- place small-scale orders in units of M3*;
- reduce inventory risks through small-scale transportation and short lead time;
- enable new deals with Breweries of trust and credibility.
 
(*) M3 means 1㎥.
For reference, one case contains 12 bottles (720ml/bottle). 23 cases contain 276 bottles.
Looking for Breweries/Importers that will help us out in our Demonstration Experiment!
We have been implementing a demonstration experiment on a limited basis in order to verify efficacy of J's Marketplace from the two viewpoints, if the e-marketplace can redraw the existing operation picture and if it is conducive to creating business opportunities with new business partners.
We are looking for breweries and importers who can cooperate with us in broadening the demonstration experiment.
★ Notice We will start the Demonstration Experiment of Reefer Container Sharing Service!

[Recruitment Information]
Demonstration Experiment Period: until September 30, 2023 (as planned)
Participation Costs:
Participants will not be charged for J's Marketplace services
Participants are kindly asked to pay by themselves actual costs for transportation, customs clearance, etc.

Notes
- Participants will need to agree to the J's Marketplace Terms of Service in order to participate.
- Participants will be asked to prepare to list their shops on the J's Marketplace, and perform procedure of placing/receiving orders, and negotiate for new deals.
- Participants will be asked to answer questionnaires or take interviews regarding the J's Marketplace experience or their situations of export/import procedures.
- Since this is a Demonstration Experiment, contents briefed on in this homepage are subject to changes in the future.
Should you have any questions about specific contents of the demonstration experiment, or need consultation, please do not hesitate to contact us.
Brochure of About J's Marketplace別ウィンドウで開く【PDF】(187.3 KB)

Brochure of About Reefer Container Sharing Service
General Information別ウィンドウで開く【PDF】(266.3 KB)
for Singapore別ウィンドウで開く【PDF】(1.6 MB)
for Hong Kong別ウィンドウで開く【PDF】(203.8 KB)
for Vietnam(by Vietnamese)別ウィンドウで開く【PDF】(313.4 KB)
* All trademarks are the property of their respective owners.
Required Adobe® Reader® to read PDF files.
Please click here別ウィンドウで開く to get Adobe Reader.
Required Adobe® Reader® to read PDF files.
Please click here別ウィンドウで開く to get Adobe Reader.